Protest against Independent Living Centre funding cuts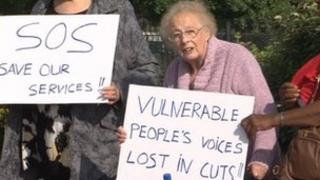 More than 100 people have held a protest against funding cuts at a centre for people with disabilities in the West Midlands.
Campaigners said they were worried that the Independent Living Centre in Sandwell could close with more than 40 part-time staff losing their jobs.
Almost half of its £700,000 annual funding from the NHS is being cut with the centre having to retender for £260,000 in council funding.
The council said talks would be held.
'Be with friends'
Council leader Darren Cooper said the authority would try to maintain funding but "needed to have that dialogue with them".
The centre was set up 17 years ago by a group of disabled people.
It handles around 35,000 enquiries each year and offers a meeting place for vulnerable people.
Centre user June Farnell said if it closed they would not have anywhere else to go,
"It'll mean that I won't be able to come here again and get any help or advice that I might need or be with my friends.... We shan't have anywhere to go."