West Bromwich food workers treated for TB symptoms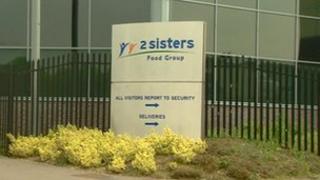 Four people working for a food company have been treated for tuberculosis (TB).
Fellow members of staff at the 2 Sisters Food Group Ltd site in West Bromwich are also being checked for symptoms.
A Public Health England (PHE) spokesman said it generally required prolonged and close contact with somebody who has TB to catch the disease.
He added there was no impact on food quality or safety.
The four people who picked up the infection work at a site in Dial Lane. They have all responded to treatment and are now well, a PHE spokesman said.
Figures rising
Dr Naveed Syed, of PHE, said the risk of catching TB was small and that it could be completely cured with antibiotics.
He said the cases had no impact whatsoever on the quality of goods processed at the factory.
A 2 Sisters spokesman said the firm was working closely with PHE.
BBC Midlands Today's health correspondent Michele Paduano, said TB figures were rising.
In 2003, there were 784 cases in the West Midlands, while provisional figures for 2012 show there were 1,090.
"Around 65% of cases are imported from abroad," he said.
"Black Africans are the most at risk, followed by people of Pakistani and Indian origin."
The highest rates are in central Birmingham, with Sandwell, Wolverhampton and Coventry also being problem areas.