Crete murder trial: Luke Walker 'not a violent person'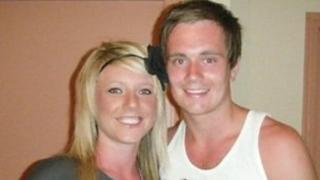 A Briton accused of murdering his girlfriend on the Greek island of Crete did not appear to be "a violent or aggressive person", a court has heard.
Luke Walker, 25, from Brierley Hill in the West Midlands, denies killing Chelsea Hyndman, 20, from Castleford in West Yorkshire, in May 2010.
Ms Hyndman died after she was taken to hospital with abdominal pains.
Greek prosecutors claim she had been beaten by Mr Walker. He claims she fell on a night out.
Heraklion Mixed Criminal Court in Crete was told by witness Louise Purdy that she regularly socialised with the defendant and said he showed no signs of being violent.
The 27-year-old said: "In our time I never saw a violent or aggressive person.
"Alcohol obviously does change you but I think with him, and the same with Chelsea, they became even more happy and life and soul of the party.
"They were very, very similar to each other and they did love to have fun and enjoy themselves."
Ms Purdy met the couple when they were all working in Malia.
'Discoloured eyes'
She told the court she had been out with Ms Hyndman and a group of other girls on 6 May when the 20-year-old fell and "hit the floor".
The witness said the party then went onto another bar.
"As we got there I asked her 'are you okay?' and she said that she had hurt herself slightly on the stomach," Ms Purdy continued.
She added that in the following days Ms Hyndman's health seemed to deteriorate, being unable to eat much and her eyes seemed "discoloured", and the whites "yellowy".
Ms Purdy said she visited the 20-year-old about a week later and saw that her "stomach was very taut, very bloated, she looked pregnant."
The witness claimed she wanted to take Ms Hyndman to hospital but was assured by the deceased that she just needed to rest.
The court heard it was the last time Ms Purdy had seen her alive and the witness was subsequently updated on her condition by Mr Walker.
She added: "I don't think he would have ever done anything to hurt her.
"In the time I got to know her I do believe that she would have said something and not only would she have said it but we would have seen something that would have made us question things."
Ms Hyndman died on May 17 from acute peritonitis. Mr Walker denies one count of murder.
The trial continues.