Tipton bobbies' beats tracked on Twitter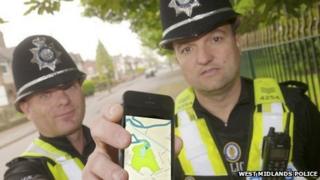 People in the Black Country will be able to monitor exactly where their neighbourhood police officers go while on the beat.
Officers from West Midlands Police's Tipton team will be fitted with a GPS tracker, showing their route via their Twitter feed every few hours.
The force said it was the first time anything like the project, called Track-a-Cop, had been tried in the UK.
The updates via @TiptonGreenNPT will run weekly, from Tuesday to Friday.
Undercover operations
Sgt Dave Rogers, from the team, came up with the idea after he said residents told him they rarely saw officers in their street.
He said: "Often in reality it simply means they've not been around at the same time as us.
"I spoke to one resident recently who said he couldn't remember the last time he saw a beat bobby yet PCs had patrolled his street three times that day."
The force said not all the officers on the team will be tracked, meaning the ones without GPS devices can be used if needed in undercover operations.