Bournville blue plaque for suffragette Julia Varley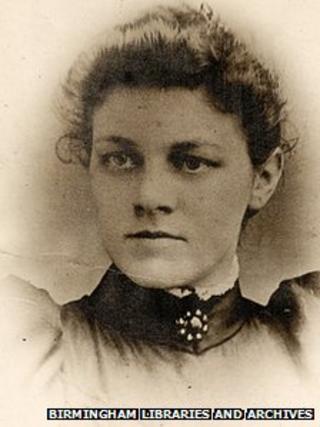 A suffragette and prominent trade unionist in Birmingham has been honoured with a blue plaque.
Bradford-born Julia Varley moved to Bournville in 1909 to establish a branch of the National Federation of Women Workers at the Cadbury's factory.
Varley went on to campaign for both men and women at a national level.
A Birmingham Civic Society plaque was unveiled earlier at Selly Manor. It will be put up at her old home in Hay Green Lane, Bournville.
Varley, who was born in 1871, started as a millworker aged 12.
By the time she was 15 she had become involved with the first of many trade unions that she would work with for more than 50 years.
'Remarkable achievements'
Invited to the Midlands by Edward Cadbury, Varley was one of those involved in the Cradley Heath women chainmakers' strike of 1910.
Having campaigned for women to have the right to vote, and served on the General Council of the Trade Union Congress, Varley was appointed OBE in 1931.
She continued to live in Bournville for a number of years after her retirement in 1938, but had moved back to Yorkshire by the time she died in 1952, aged 81.
The Birmingham Civic Society awards between two or three plaques each year to people who were born in the city, or who worked there for at least five years.
Rita McLean, from the society, said: "We are delighted to be able to mark the life and work of Julia Varley.
"She clearly made a significant contribution to the working lives of women, men and also children, both in this city and nationally through her activities as a union activist and campaigner.
"In the days when many women did not take on leading roles in political and social campaigns, or were prevented from doing so, her achievements are all the more remarkable."