Birmingham Dogs' Home: Plan to open £5m bigger centre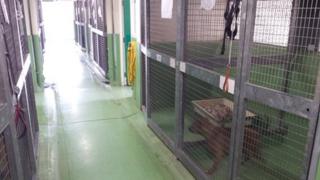 "You get people telling you it looks like a prison, and it does," admits Darren Calveley about the Birmingham Dogs' Home premises he manages.
The 25-year-old building is tucked away in a side-street in Digbeth, next to a railway line.
The charity plans to close these kennels on New Bartholomew Street and open a bigger £5m centre on land off Catherine-de-Barnes Lane in Solihull.
Plans to develop the 12.5 acres (five hectares) have been submitted to the borough council and, if successful, the charity hopes to move in by 2015.
The chief drawback of the current kennels is immediately apparent when you visit - a lack of space in which to exercise more than 100 dogs being looked after.
Paddling pool
General manager Simon Price, described the current kennels as a "postage stamp-sized site", with the staff car park being the only outside area available to exercise the dogs
The charity's ways of dealing with this problem include a treadmill for dogs to use, and a top floor room where they can be let loose to play, complete with giant lorry tyres and a paddling pool.
The small size of the site also means the kennels are on three floors.
Mr Price said the decision to leave Birmingham was made after unsuccessful attempts to find an affordable alternative of the right size within the city.
The new site in Solihull will be single-storey and will have grounds where the dogs can be walked.
The kennels will be arranged in a herringbone pattern so the dogs cannot see each other.
The current kennels face each other, which can increase the noise they make.
About 4,500 stray dogs a year are looked after by the charity, which was founded in 1892.
The dogs come from Birmingham, Coventry and Wolverhampton, with the majority being brought in by local authority dog wardens.
'Amazing work'
"We probably re-home 50% plus of all stray dogs that come in to us and 30% of strays are claimed back by their owners," Mr Price said.
"We do get aggressive dogs in and dogs that are in severe ill health.
"Unfortunately, we can't re-home dogs that are a danger or in that sort of condition, so our vet will put them to sleep if he feels he needs to."
Steph Cale was one of the people visiting the kennels with a view to offering a stray a new home.
"We've had a dog from here before and it's amazing the work they do because they get them brought in here from off the streets," she said.
Shirley Veness, another would-be owner, said it was "wonderful what they do here".
Anyone who takes one of the strays home is charged £120, but Mr Calveley said the charity "never makes a profit from a dog".
The new premises will be paid for with money from donations and legacies, Mr Price said.
"We rebuilt a site in Wolverhampton in 2002 and that used up our resources and since then we've been building them up again," he said.
"We do still have a way to go and we will be doing increased fundraising and a campaign once we've secured the planning permission we need."
Solihull Borough Council will decide in August whether the new kennels can be built on the greenbelt site.