West Midlands hotels urged to report child abuse suspicion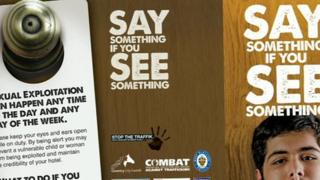 Hotel workers in the West Midlands are being urged to report any guests they believe could be taking part in child trafficking and exploitation.
West Midlands Police have asked staff, from receptionists to cleaners, to look for any unusual behaviour.
Officers said it followed several high-profile court cases where it had been revealed guest houses and hotels had been used to abuse young girls.
Among the things staff are asked to look out for are guests paying in cash.
The "Say Something If You See Something" campaign also warns staff to look for men arriving with much younger-looking girls and customers who request "isolated and private" rooms.
Det Supt Tim Godwin, of West Midlands Police, said: "Because of the relatively anonymous nature of some hotels and guest houses it is easy for people to go in there and conduct illegal activity."
'Good citizens'
He said it was not the sort of crime that was reported to officers very often and the aim of the campaign was to make more people aware of the issue.
Officers said several high street hotel names, including the Hyatt, had already backed the campaign but said they particularly wanted to target smaller guest houses.
A spokesperson for the Bed And Breakfast Association, the trade association for guest houses, said they recognised the need for staff to be "good citizens".
However, they said they needed to balance that against not wanting to be seen to "pry" on genuine guests and potentially risk losing business.