New Sikh association for West Midlands police officers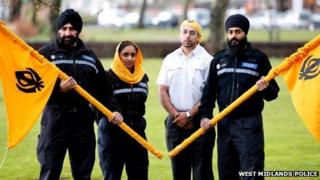 A new association has been set up by West Midlands police officers to improve relationships between the force and the Sikh community.
The West Midlands Police Sikh Association said it hoped to help officers learn more about the religion.
Chairwoman Eakbinder Kaur said she hoped the association would also encourage more Sikhs to join the force.
She said there were 100 Sikhs out of 8,500 officers employed by West Midlands Police.
Ms Kaur said she hoped the group would build on the successes of groups such the Black and Asian Police Association and the West Midlands Association of Muslim Police.
'Mutual respect'
"It's not only educating officers but building that bridge between us and community," she said.
"People can now be reassured that our officers will be sympathetic to people's beliefs and know where they are coming from as a member of the Sikh community.
"There is so much more to Sikhism than just seeing a man in a turban with a beard, it's quite vast, and it's about providing that education for officers."
Dr Pyara Singh Bhogal, who is the chairman of the Council of Sikh Gurdwaras in Birmingham said he welcomed the new group.
"We already have good support from the police at events like the Vaisakhi parade and you can see the mutual respect from both sides," he said.
"It shows that there can be cohesiveness with communities whether its police, fire, the ambulance service, and this group will improve that."