Longbridge factory Mini 'should be donated to the area'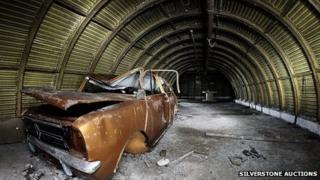 An appeal has been made to the owner of a Mini Clubman, left in a tunnel under the Birmingham car factory where it was built, not to send it to auction.
Gemma Cartwright, a campaigner for ex-Longbridge workers, said it should go on display in the area as an example of local heritage.
The Mini was used by workers but dumped in the 1970s after it became damaged.
It was saved by a former worker last year and is set to be auctioned on 27 July for about £5,000.
Mrs Cartwright said in an open letter on the B31 Voices Facebook page that lots of "Longbridge jewels" had been sold and lost.
She said: "The Mini would take pride of place and be part of the redevelopment yet keep our local heritage... We could do an outstanding rebuild community project with it."
'Put on plinth'
Mrs Cartwright's husband, Andy, who is the Labour councillor for Longbridge and worked at Rover for 17 years, said he also wanted the car to remain as a reminder for future generations.
He said: "The Mini is very iconic with Longbridge, it's like Cadbury's and Dairy Milk.
"That Mini could be galvanised to be weather proof, put on a plinth."
Mr Cartwright said he hoped it would go to "the right bidder" if auctioned, but said "the best thing" would be for the owner to donate it it to the area.
He said donating it, along with his name, would be "worth more than money".
On the Facebook page, someone with the profile Steve Sheena Morgan, who claimed to be the owner of the Mini, said that in the eight months since they had salvaged the car, they had "not had one offer of support".
They wrote that "everyone knew the Mini was there and no-one approached the developers" and found the open letter "a bit hard to swallow".
They said the car had been featured on Facebook, Twitter and YouTube over that time and there had been no interest shown from museums or heritage centres.
They said storage costs were high and it was expensive to transport the Mini.