'Tests expected' on Gurkiren Kaur Loyal's missing organs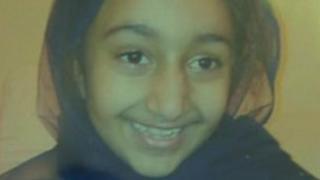 A pathologist in India says post-mortem tests are still being conducted on an eight-year-old girl from Birmingham who died while on holiday there in April.
Gurkiren Kaur Loyal's parents said she died after having an injection as part of treatment for mild dehydration.
Her body was returned to England without its organs so doctors here were unable to establish a cause of death.
The Rajindra Hospital, in Patiala, where Gurkiren died, said her organs were still being prepared for tests.
Gurkiren became ill while visiting the Punjab with her family during the Easter holidays.
Her parents took her to a local doctor for treatment on 2 April, where they said she was given an injection of an unknown substance and fell ill immediately.
She was taken to hospital but died by the time she arrived.
The girl's body was flown back to the UK and sent to the Birmingham Coroner's Office for a post-mortem examination, which it was unable to carry out because her organs were missing.
The coroner's office has since written to the Foreign Office for help requesting a return of the organs.
Enlarged heart
Professor Manjit Singh Bal, from the hospital, said they were planning to carry out microscopic examinations on the eight-year-old's body parts.
He said he had retained her heart, lungs, brain and part of her liver at the department of pathology.
He said that the heart was enlarged and had an area of calcification.
Gurkiren had been diagnosed with a heart defect years earlier and had then had a stent fitted at Birmingham Children's Hospital.
Her mother Amrit Kaur Loyal, from Hockley, said a doctor in the UK had declared Gurkiren fit to travel to India.
She said the Indian GP who administered the injection did not answer her questions about what it contained and whether it was necessary.