Test driving Birmingham's 'cars on demand'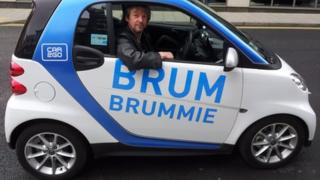 I swiped my membership card, typed in my PIN and the computer screen on the dashboard told me I could drive off in a car I found parked in a pay and display bay on a Birmingham street.
Registering to get my membership card for the car equivalent of London's "Boris bike" had taken ten minutes - long enough to check my driving licence, take credit card details and for me to choose a user name and password.
More than 250 cars will be available in Birmingham, and drivers can locate the nearest vehicle via the company's website or a smartphone app.
Members of the car2go scheme will be charged 35p per minute to rent one.
Set up by Daimler and Europcar, it has already been launched in three boroughs in London and runs in 18 other cities in Europe and the US.
Green and automatic
I had been given a quick tour of a car when I registered, including an explanation of how to use my card to unlock it and how to begin and end my rental.
After that I was good to go.
My first impression was this was the smallest car I had ever driven - I felt I could tuck it under my arm instead of parking it.
My second was that the car was an automatic - and it is 20 years since I have driven one of those.
The engine also switched off every time I stopped at a junction, to save fuel, which was a shock the first time it happened.
Mercifully, there were some quiet streets I could negotiate before joining the rush of Friday traffic on the Queensway.
Later, as I parked, Tom Southern came over to ask me if this was "one of those rent-by-the-minute cars".
The 61-year-old, who commutes into Birmingham, said he thought the scheme would be "useful for anyone living in the city".
Log off
"I think [the scheme] would only work in bigger cities - I live in Worcester, which is probably too small for it to work."
Jamie Reed, 33, who has a driving licence but does not own a car, also felt the scheme was "a good idea".
"I guess the key thing is knowing where the nearest car to you is.
"I'd also want to be able to book a car and know where I could pick it up if I wanted it the next day."
Emma Davison, 25, said the cost "didn't seem too bad".
"I'd be paying as much as that to use my own car," she added.
At the end of my rental I was able to leave the car parked in any pay and display bay, now grateful that the car was small enough to squeeze into the tightest space.
The keys have to be left inside the car, and after I have logged off using the screen on the dashboard, I locked it by using the membership card reader on the windscreen.
Reassuringly, the screen told me my rental was over, though I did go back twice to check that the car was locked.
The BBC's Dr David Gregory-Kumar lives in the centre of Birmingham and does not own a car.
He has been using the cars since the scheme was launched and has found it cheaper than taxis or car clubs that require joining for up to a year.
"I worry about getting stuck in traffic and watching the time tick away but otherwise I think this will be a really useful idea for city centre living," he added.
Birmingham City Council has said the scheme will run for 12 months.