Erdington walk-in centre saved from closure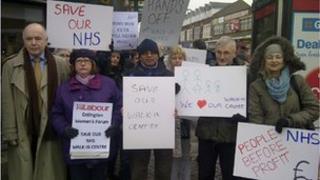 Campaigners have won their fight to save a Birmingham NHS walk-in centre.
The centre in Erdington was being looked at by Birmingham and Solihull NHS as part of a review into all walk-in centres in the city.
Erdington MP Jack Dromey said it was "great news" the "much-loved and much-used" centre had been saved from closure.
Residents had campaigned to save it, with more than 500 people signing a petition.
The Labour MP has been involved with the community campaign since October alongside the Patient and User Group.
He said: "Thousands of local people have come together to speak with one voice to send a clear and unmistakable message to Government ministers and health service bosses in Birmingham about how important the walk-in centre is to the local community.
"Today we have shown that we can achieve more for our community together than we can alone."
'Improve patient care'
Dr Gavin Ralston, chair of Birmingham CrossCity Clinical Commissioning Group, said it had been working on a "far-reaching review of urgent care in Birmingham and Solihull for a number of months."
He said: "We must ensure that any proposed changes to the system will improve patient care, making it generally more seamless and straightforward for people to use.
"Due to the complexity of the situation, there is no intention in the short to medium term to close any of the current walk-in centres.
"During this time we will take the opportunity to review the service specification and opening hours of the current walk-in centres to ensure that they add value to the system."
He also said the group would explore a pilot scheme of a GP-led service within an accident and emergency department.