Sandwell Residents split over The Public plans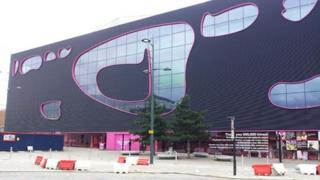 A plan to partly convert an art gallery in the West Midlands into a sixth form college has split local opinion.
The Public opened in West Bromwich in 2008, two years behind schedule and more than £15m over budget.
Five years later, Sandwell Council has revealed plans that could see about 80% of the gallery and performance venue handed over to Sandwell College.
When designs for The Public were first put forward in 1994, the gallery was intended to belong to local people and revitalise the community.
Some, however, saw the £67m building as an extravagance and a "waste of money".
Criticism steadily grew as the project ran into difficulties, with debts rising and funding falling short.
Since it opened, however, visitor numbers have steadily grown for theatre, music and comedy performances, as well as exhibitions.
Sandwell Arts Trust, which currently runs the centre, said more than 380,000 people visited in 2012-13, more than half of whom were from the Sandwell area.
The venue is also home to 27 companies, employing about 60 people.
Several local people said it would be a "shame" if The Public became less public under the council's latest proposals.
'Eminently sensible'
Sue Cooper, 38, from Wednesbury, said she had visited a few times with her family.
"I think it's a bit of a shame, especially when there are these new developments opening up around it, which could have given it a kick start," she said.
Mike Evans, 18, one of more than 100 apprentices at The Public, said there was "nothing else like this in West Bromwich".
Other people in the area, however, supported the council's plans.
John Hollyoak, 57, who works opposite The Public, described the move as "eminently sensible".
He said: "Don't get me wrong. I think it's a wonderful facility, it's just not right for West Bromwich. It would be fine in the centre of London but not here.
"I think if the college comes here it will tie it in with the rest of the city centre."
Others described its current use as simply "a waste of money".
The venue has been rescued on more than one occasion by government grants or Arts Council funding.
Sandwell Council said The Public had contributed "to the lives of Sandwell and West Bromwich people," but that it was important to secure its long-term future.
The local authority said it was currently in talks with Sandwell College to convert most of the centre into facilities for about 500 A level students, although no decision had yet been made.