The Public arts centre in West Bromwich 'could become college'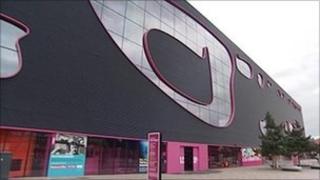 An art gallery that was beset by problems before opening at a cost of £67m may be turned into a college.
The Public, in Sandwell, West Bromwich, opened in 2008, two years behind schedule and £15m over budget.
It led to shadow arts minister at the time, Ed Vaizey, describing it as "the biggest arts scandal for decades".
Sandwell Council said it was considering using 80% of the arts centre as a sixth-form college to secure its long-term future.
The gallery has depended on millions of pounds of grant funding since it opened and the council has previously said it could not fill the funding gap out of its own budget.
380,000 visitors
Under the plans, the college would seek to lease the building from the council.
Construction work on the arts centre came to a halt in 2006 after the company running the project went into administration.
It finally opened to visitors on 28 June 2008, although it was not completed until a year later at a total cost of £67m.
The council then put together a plan to complete the centre, which is currently run by the Sandwell Arts Trust.
Linda Saunders, the trust's managing director, said the news was "disappointing".
She said: "We think it is working fantastically well, we had 380,000 visitors last year.
"Our view is that the building is successful as it is."
The deputy leader of the council, Mahboob Hussain, said: "After rescuing The Public from administration, we want to make sure it has a long-term future.
"Expanding the college there could be a massive boost to the educational opportunities on offer in Sandwell."
Arts Council funding is due to run until 2015.
Its area director Peter Knott said the organisation was aware of the proposed change of use and would be meeting with the council to discuss the plans in more detail.
The Arts Council provided more than £30m to build The Public, as well as an extra £3m to complete the main interactive art gallery.
About £18m came from Sandwell Council, with additional funding from regional development agency Advantage West Midlands and the European Union.