The Office brought to stage by Dudley Little Theatre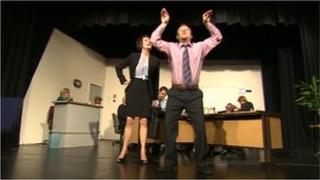 An amateur theatre company in the West Midlands is about to perform the first stage production of TV comedy The Office.
Dudley Little Theatre spent three months getting the necessary permissions from Ricky Gervais and Stephen Merchant, a process which had to be done through intermediaries.
Director and adapter Prue Warne said: "It went on for ages because they were in Hollywood at the time."
The stage show, which features three episodes from series one of the show, will run at the Netherton Arts Centre until 11 May.
Ms Warne said it was her love for the show which led her to start the process.
'Very stressed'
'I thought 'I love the office'," she said.
"I know some people do, some people don't, but I thought that would be a good one to do."
She began adapting the TV scripts for stage at the end of last year.
Lead actor David Hutchins, who plays David Brent, had to reacquaint himself with the TV show.
Although he has lived in the Black Country for 12 years he still has a southern accent, with which he found himself "slipping into it (David Brent) without even realising it".
Ricky Gervais and Stephen Merchant were invited to come and see the show, but said they were unable to attend.
Ms Warne said she has had fun putting the production together, but has been "very stressed" trying to get it right.
"It is my baby - I know by the time it's over I'll be crying into my pillow," she added.