Khadija Shah's family call for Pakistan prison release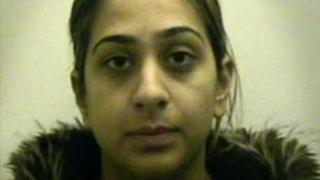 The family of a Birmingham woman being held in prison in Pakistan with her seven-month-old baby have called for their release.
Khadija Shah, 25, was arrested a year ago on suspicion of trying to smuggle heroin with a street value of about £3.2m into the UK.
She denies the charge and is being held in prison pending a trial.
Her lawyer Shazad Akbar said the family would be launching a fresh appeal for bail.
An initial application was dropped in August, after lawyers said it appeared judges would refuse it.
Mr Akbar said: "She has a newborn baby, who has no reason to grow up in prison and has nobody else to go to.
"She [Ms Shah] doesn't have to be in prison during the trial."
Her daughter Malaika was born in prison seven months ago.
Concerns for health
Ms Shah was originally held in custody with her two other young children but they have since returned to family in Birmingham.
In a statement, her family said they were worried for her health and that of Malaika.
The legal charity Reprieve said it was concerned the baby had not received the immunisations she would have in the UK and there had been an outbreak of tuberculosis in the prison last year.
Jail officials have previously said Ms Shah and her baby were being treated well.
Last year a court in Rawalpindi heard Ms Shah was arrested in May after 63kg of heroin was found in several suitcases she was carrying.
She said she was carrying the cases for someone else and did not know what was in them.
If convicted, she could face the death penalty.