Wednesbury war dead remembered on new plinths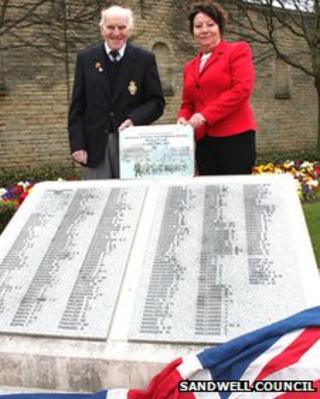 The names of more than 1,000 fallen war heroes from a West Midlands town have been engraved on four plinths that have been unveiled at a ceremony.
The stones in Wednesbury's memorial garden honour the local people to die in conflicts from World War I onwards.
Some 623 names were included in the town's original roll of honour but a further 424 have been added to the list as part of a £57,000 project.
A book of remembrance was opened during the dedication ceremony.
Wednesbury War Memorial Campaign Group has taken about six years to identify those missing from the original list.
Three of the plinths bear the name of victims from WWI, while a fourth one lists those to die during World War II and later conflicts.
Tom Bedworth, chair of the campaign group, said: "More than 1,000 Wednesbury people made the ultimate sacrifice in the fight against tyranny and oppression.
"It is only right that we take the time to remember that they gave their tomorrow so that we could all have the freedom to live our today."