Birmingham wheels skate club 'may shut' in rent row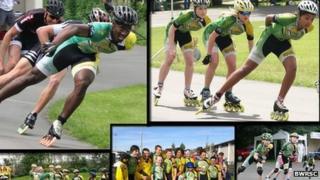 Officials at the UK's only purpose-built roller speed skating track have warned it could have to shut in a rent row with the council.
Birmingham Wheels Roller Speed Club said future Olympic stars could be hit if it lost its training base.
The city council said it wanted to renegotiate the club's contract and dissolve the trust that currently runs the Birmingham Wheels Park venue.
Talks between the council and the club, which rents the venue, are continuing.
In May the Olympic Executive Board will choose which additional sports to include in the 2020 Games, from a shortlist that includes roller sports.
The club (BWRSC) already has members competing in the European and World Championships.
Lease surrender
The Birmingham Wheels Park, in Saltley, opened in 1980 after being built with the probation service for youth projects. It is now owned by the council and run by a charitable trust.
John Fry, the club's chairman, said council officials wanted the club to "surrender a 90-year lease".
He said he feared that would make them "vulnerable" to regular negotiations, and would no longer have the protection of charity status to avoid commercial rates of rent.
"It puts our operations at risk. We're trying to keep all this away from the kids but it's having an impact on the morale of some of the coaches and the parents," he said.
Sharon Tongue, GB team manager and national development coach, said: "As the only purpose-built speed skating track in the UK that meets international specification, it is a vital resource for the preparation of the national team... it is essential to the sport and the skaters that this facility has a long-term future."
'Viable future'
Mr Fry added: "If the council closes somewhere like this down, next time there's riots or anything like that it's our door they knock on for ideas of how to engage young people, what activities we can do to keep them busy.
"It's madness, they're just firefighting."
A spokesperson for Birmingham City Council said it had offered leases of up to five years and its aim was to create "a viable future and a satisfactory conclusion for all" despite the "difficult challenge" of operating without charitable income and grants.
In a statement, the authority said: "Our only intention is that the Wheels Park gets on a more stable footing so that these activities can continue."