Collette Elliot wins pay-out from Birmingham council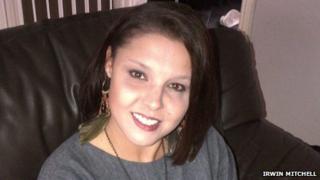 A woman is to receive compensation from a council after social services failed to take her into care while she was being abused as a child.
Lawyers acting for Collette Elliot, 35, said Birmingham City Council should have taken more action.
Her solicitors added neighbours, health visitors and teachers flagged concerns to the authorities.
The council said it did not accept its decisions were wrong but was sympathetic to Ms Elliot's feelings.
She has attempted suicide 12 times and failed to hold down a job due to severe depression, her lawyers Irwin Mitchell added.
'Letting me down'
They said she was regularly in contact with social services, after neighbours, teachers and hospital staff contacted the authorities concerned about injuries to her body, her poor attendance at school and the adults she was involved with.
The lawyers said after a period in foster care, the council social services team decided it was in her best interests to move back with her mother permanently and she remained there until she left home at 18.
In a statement from the law firm, the mother-of-four, who now lives in Erdington, said: "The worst was when I fell out of the window because my mum had been out all night and I spent three weeks in hospital.
"Whilst the settlement from the council is a step forward, I won't have any sort of closure until the council apologies for repeatedly letting me down and failing to protect me."
'Difficult case'
Irwin Mitchell said the council had now agreed to pay her a five-figure sum in settlement of her claim for damages for her pain and suffering, loss of earnings and ongoing psychotherapy.
A council spokesman said: "This is a difficult case and we are sympathetic to the feelings of the person at the centre of this.
"Social work decisions are often very difficult when you're faced with judgments involving removing children from their parents.
"In this case the council did not accept that its decisions were wrong. However, the case has been settled on the basis of legal advice."