West Midlands firefighter jobs 'to go by July'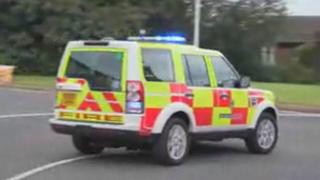 A total of 34 firefighter jobs will go and four engines will be decommissioned by July as part of budget cuts, West Midlands Fire Service said.
A spokesman said the posts would go through natural wastage and retirements rather than compulsory redundancies.
Four fire engines at stations in the Birmingham and Coventry area would be replaced with three smaller Brigade Response Vehicles (BRVs).
The Fire Brigades Union said it was "deeply concerned" by the news.
West Midlands Fire Service is facing a £20m reduction in government funding by 2014.
It confirmed 18 posts were being lost in Coventry and 16 in Birmingham but said "no firefighters had been made redundant".
Fire engines based at Northfield, Foleshill, Fallings Park and Sheldon fire stations are being replaced with BRVs by July but each of the service's 38 stations would still have at least one fire engine, the service said.
'Cut to bone'
It said that about six firefighters were leaving the brigade every month, through "retirement or for other reasons".
Phil Hales, from the service, said: "Overall numbers are expected to decrease until at least 2015.
"However, because of the numbers leaving, we do plan to recruit some more this year.
"The result is that we are having to think of new ways of operating, but members of the public will not see a change in the level of service we provide.
"Our stations are staying open, and people will get an appropriate response when they need it."
Steve Price-Hunt from the union said it acknowledged the West Midlands Fire Service had to make cuts because of a reduction in funding from the government.
"The FBU have been lobbying the government about this for months, their austerity measures are cutting the fire service to the bone," he said.
"This is having a direct effect on frontline services and how long and how deep these cuts could now go are anyone's guess.
"By cutting our resources it will affect how we serve the public and our operational readiness."