Kidderminster Harriers 'take steps' to avoid more disorder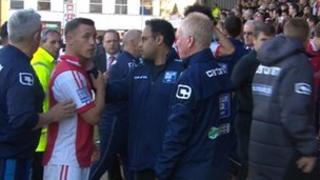 Kidderminster Harriers have said they have "taken steps" to ensure there will be no repeat of disorder that happened during their match on Saturday.
The game against Stockport County was stopped for 31 minutes after a player was punched during a pitch invasion.
A man has been charged with assaulting Harriers' defender Lee Vaughan.
The club said it would improve segregation between fans for Sunday's match with Wrexham at Aggborough and the East Stand would be home fans only.
The game has also been made all-ticket.
Chairman Mark Serrell said he would be meeting with West Mercia Police in the next few days to decide whether officers would be needed to police inside the stadium.
He said: "We couldn't anticipate what was going to happen [on Saturday] , but we are taking steps to make sure that it cannot happen again.
"We haven't had problems like this in a long, long time, we haven't had police in the ground since 2009, but ultimately we are responsible for the safety of the people inside the stadium and we will do our very best."