Meriden Gypsy camp: Timeline of events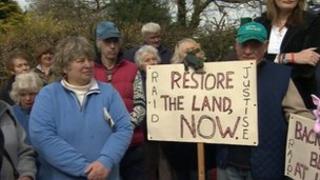 For the past three years, Gypsies have been living illegally on a greenbelt site in the West Midlands.
The last Gypsy family left Eaves Green Lane, Meriden, on Sunday after losing a legal battle to stay.
Local residents had set up a campaign group Meriden Residents Against Inappropriate Development (RAID) in 2010 and built their own camp opposite in protest.
They dismantled that and left the site on Monday.
30 April 2010 - Travellers arrive.
1 May 2010 - Residents block a road leading to camp, to prevent work being carried out.
2 May 2010 - Solihull Borough Council issues a stop notice on the travellers at the site. It said the travellers had put in a request for planning permission on the site as a "gypsy site for 14 pitches to site 14 mobile homes, 14 touring caravans and associated ancillary developments".
21 May 2010 - A High Court injunction is won by the council to stop travellers building on land.
30 June 2010 - Travellers given permission to fence off a pond and put down sewage pipes for 10 caravans.
7 July 2010 - Solihull Borough Council throws out an application by the travellers for 10 permanent pitches for caravans, parking and a single storey utility building. They have 28 days to appeal.
25 October 2011- The travellers lose their appeal to stay on the greenbelt land.
1 February 2012 - Councillors vote to evict protestors.
27 March 2012 - The Gypsies reach an agreement with Solihull Borough Council that will see them leave the site by 31 March 2013.
15 September 2012 - Plans to turn a nearby builders yard into a temporary site are rejected by Solihull Borough Council.
20 March 2013 - Gypsies drop legal appeal over planning.
21 April 2013 - The last Gypsy family leaves the camp.
22 April 2013 - Protestors leave the site.