Meriden Gypsies 'split up with nowhere to go'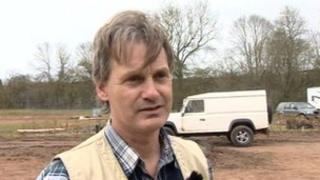 Since leaving their illegal gypsy camp last month after a three year fight, the families say they have been split up with nowhere to go and have little hope of finding somewhere permanent to live.
After failing to win their battle to remain at Eaves Green Lane in Meriden, the group of travellers left shortly before 21 April, the eviction deadline set by the High Court after two retrospective applications were dismissed.
They bought the six-acre greenbelt land in 2009 for £100,000 and eight caravan pitches were set up in 2010.
Within weeks, about 200 residents formed a campaign group - Meriden Residents Against Inappropriate Development (RAID) - and set up a camp opposite the Gypsy site which they occupied 24 hours a day until the Gypsies left.
'Lost education'
The campaigners said their united fight led to them forming strong bonds, something the Gypsy families say have been broken within their unit as they are now scattered around the borough of Solihull, unsure what the future will bring.
Noah Burton, the head of one Gypsy family who lived on the land, said: "People have left their jobs, we have children out of school, some are still in the area some are out. We're just going where we can.
"In the past 12 months, we've asked [Solihull Council] if we can go in a lay-by or waste ground but they say no.
"I've been moved on [by police] several times since we left.
"I've got an 11-year-old daughter who thinks it's the best thing in the world that she is out of school and I've got a 12-year-old son crying because he wants to be in school... what can I do?
"In a year's time we will not be in the area and the kids will have lost their education."
He said their situation was fairly representative of what all Gypsies faced as sites to live on become harder to come by.
"It's getting more and more difficult and yes, it seems to be the same picture around the country.
"There are lots of touring caravan parks and sites around this lovely countryside that people stop and stay in but I can't do that, there's always a reason - my van is too big or they don't want something else, they always find a reason, it's the Gypsy stigma that's hurting us.
"I can show you 40-50 emails over the past 12 months between me and Solihull Council trying to ask for somewhere to go and they won't let us on anywhere.
"It's like they want to run us out of town but we'd like to stay in the area."
The council said officers tried to find alternative sites in the borough and other neighbouring authorities but there were no vacant pitches on lawful sites.
Its own 49 pitches are all occupied.
Last month, the council said it was intending to provide 31 permanent pitches by 2027.
Four sites have been identified which could be suitable and would be delivered in two phases, with 19 pitches in place by 2017.
'Too messy'
Dave McGrath, from RAID, said: "The group never really lived together before they came on to the land... and they never formed part of a cohesive unit.
"While they were on the site, two councils offered them alternatives.
"North Warwickshire Council offered them four pitches in Alvecote Lane but they said no, it was too messy.
"Solihull Council offered them temporary bricks and mortar until new pitches at Old Damson Lane were ready, but they said no.
"They objected to plans for refurbishment and extension of seven pitches at a site on Old Damson lane, I was at the meeting.
"They said it would not meet their needs which I say is a perverse situation."
Mr Burton said they did object to some of the plans but only on "specific points" like whether there would be enough room for American-style caravans, but it was "inconsequential" in the end as they knew they could not get on the land.
For now Solihull Council is monitoring the site in readiness for the Gypsies "reinstating" it to its previous condition by 16:00 BST on 21 May, which Mr Burton said he would do.
Offers to buy the land must be submitted to the council by the end of this month.
If no takers are found, Mr Burton said they lack funding to purchase new land.
"If we can sell the land, we'll get money for somewhere else but if not it's the same situation again, we still own the land... but that's the last place I want to be.
"We want to sell and go."