Meriden Gypsy campaigners leave protest camp after three years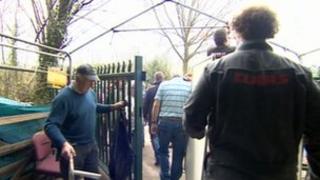 Protesters have said leaving their camp set up in response to an illegal Gypsy camp in the West Midlands marks the end of a challenging time for the village.
The last Gypsy family left the six-acre site, which they own, at Eaves Green Lane, Meriden at the weekend.
Retrospective planning applications to develop the site were dismissed by the High Court.
Campaigners set up their own illegal camp nearby which they manned 24 hours a day over the last three years.
It was run by about 200 people who filled a rota varying from one-hour shifts to six or seven hours overnight.
Dave McGrath, one of the organisers behind the Meriden Residents Against Inappropriate Development (RAID), said leaving the camp after 1,088 days was an emotional occasion.
'Relief and sadness'
He said many of the group had enjoyed "little celebrations" together at the site including Christmas dinner and marking the new year.
"It is an immense sense of relief that I am feeling today," Mr McGrath said.
"We have won 20 legal and planning decisions and have raised £90,000 from within the community as we have not had legal aid.
"I also feel an immense sadness that certain elements of this campaign have come to an end."
The greenbelt land was purchased in 2009 for £100,000 by Noah Burton, the head of a Gypsy family.
The first families moved onto the site in April 2010 sparking the long-running row between the Gypsies and the RAID group.
Mr Burton said the decisions by the High Court meant that the travellers' way of life was being "endangered" and "taken away".
He said the group had wanted to set up a permanent site because it was illegal to pull into lay-bys, park on village greens or even on the side of the road.
He told BBC News on Monday that he felt the protestors has been treated differently.
"It's disgusting," he said.
"I don't know how the council can turn a blind eye to the protest camp but thrust everything possible on us. It's 'they can stay but you must go'.
"It's just double standards. We're all losers today.
"At the end of the day, Mr McGrath's primary concern is the price of his house.
"We still own the land. He's won nothing. It's just the Gypsy stigma that's hurting us."
'Not enough pitches'
The village campaigners themselves were also served an eviction notice in March last year, but said they would stay until the last of the Gypsy caravans had moved off the site.
Mr McGrath said a new campaign was being formed to ensure the travellers' site was returned to its original state, which they have been ordered to complete by 21 May.
He said: "We know we were unlawful, but ours was a protest camp within a builders' yard and with no ecological impact.
"You can see how they (travellers) have devastated the land. They chopped down three trees before they left for no reason. They burnt two caravans out and lit multiple fires around the site and they've left live cables."
Asked whether he would be returning the site to its previous state, Mr Burton confirmed he would be complying with the court order.
"I've got a digger to come down this week and we've been burning stuff to get rid of some stuff and prepping to level it," he told BBC News.
Solihull council said it would monitor the site to ensure it is "reinstated back to its previous condition" as was specified in a court injunction.
Damian Le Bas, from the Travellers Times magazine said people were "guilty of over blowing the question of Gypsies moving onto land illegally."
"It's a very small question of people actually doing that, there are over 15,000 Gypsies and travellers on legal sites across the UK."
"There aren't enough legal pitches and although there are plans for 50 new sites for the West Midlands in the next few years, for that to go ahead there has to be some political will from local councillors to help Gypsies and travellers."
Solihull Council unveiled plans to provide 31 permanent pitches for Gypsies and travellers by 2027 earlier this month.