Passenger pulls gun on Darlaston bus driver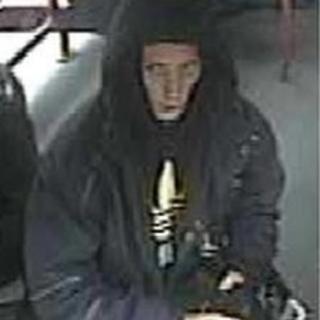 Police have released images of a person they want to trace after a gun was pulled on a bus driver who challenged a passenger about his expired ticket.
A male passenger boarded a bus in Darlaston in the West Midlands but took the gun out of a bag when the driver of told him his ticket was not valid.
The gun "clicked" as the trigger was pulled before the suspect ran away, police said.
It is not known if it was a real or imitation firearm.
'Clearly frightened'
About 10 people witnessed the incident on the bus in Wednesbury Road, near the junction with Corporation Street, on 17 March.
PC Richard Stanley, of West Midlands Police, said: "The driver approached him and told him that the ticket he had used was not valid for travel.
"When challenged, he reached into the bag and pulled out what appeared to be a black handgun − pointing it at him."
He said the victim described how the suspect "pulled the trigger, causing a clicking noise, before running away".
He said: "It's not clear whether a real or imitation handgun was used but, whatever it was, it clearly frightened the driver, who was simply doing his job, not to mention the other passengers."