Sandwell Council manager resigns over 'failing' child services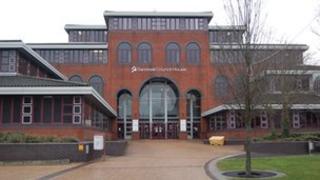 A senior manager has resigned after a West Midlands council was found to be failing vulnerable children.
An inspection by Ofsted in February found Sandwell Council's child protection services were "inadequate".
Helen Smith, director of Children's Services, was suspended following the inspection and has since resigned.
The council said it was taking "immediate steps" to make improvements and it was investing in more social workers to help resolve the problem.
Council leader Darren Cooper apologised to people in the area and said: "It's a cultural issue that needs to be addressed, we've put resources in and we're still seeing poor outcomes."
The Ofsted report said that families of vulnerable children were insufficiently supported by the council's services leaving them at "risk of significant harm".
Sandwell Council said it was already aware of serious problems and as a result had signed up with a private sector partner, iMPOWER to improve services.
As well as taking on 70 extra social workers over the last year, the local authority said it was making improvements to working relationships between staff and police.
Mr Cooper said: "We have big problems and we are going to fix them because we owe it to the children many of which are in the care system.
"The bottom lines is we cannot afford another Baby P or another scenario where a child dies because our processes and our partner agencies aren't linked up to provide a holistic approach to help that individual child."