Solihull Gypsies and travellers pitches plan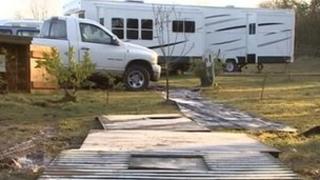 Solihull Council says it intends to provide 31 permanent pitches for Gypsies and travellers by 2027.
In a draft plan the authority has identified four sites which could be suitable and said the plan would be delivered in two phases.
The council said 19 pitches should be in place by 2017.
Public consultation on the issue is under way and will run until 17 May. A Tory councillor described the plan as a "milestone" for the authority.
Land at Old Damson Lane, Solihull, has been earmarked for 11 pitches with a further five at The Warren, Bickenhill Lane, Marston Green, and three at The Uplands, Dickens Heath Road.
The authority plans to create 12 more pitches in the second phase, which runs from 2017-2027, at The Haven, Catherine-de-Barnes Lane, Bickenhill.
Tory Councillor Ian Courts, cabinet member for economic development, said: "This is another milestone towards having a firm plan in place to deal with our responsibilities in meeting the accommodation needs of Gypsies and travellers in the borough.
"As well as being something that is required of us by national government, having authorised sites strengthens our position in dealing with incidences of unauthorised sites in the future."