Royal Navy team starts 360-mile stretcher run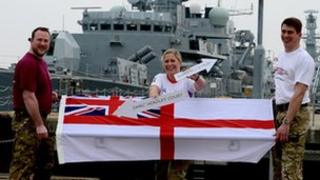 A team of Royal Navy medical staff have started a 360-mile run carrying a stretcher.
The group will run about a marathon a day, in aid of military charities that support injured servicemen and women.
Leaving the Royal Centre for Defence Medicine (RCDM) in Birmingham on Thursday, they are due to finish at the Naval Service Recovery Centre in Plymouth on 17 April.
The journey also includes Surrey's Headley Court rehabilitation centre.
Organiser and runner Lt Jack Nicholson said the route had been chosen to include some of the most important treatment centres in the country.
"So far a lot of people have peeped their horns and periodically someone has pulled over and parted with their hard-earned cash, which is what it is all about," he said.