Meriden Gypsy protesters 'not planning to leave camp'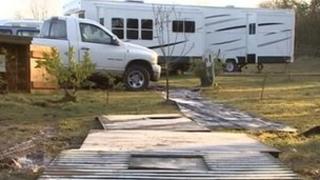 Protesters against travellers living on land in the West Midlands have refused to leave their nearby camp, despite being given an eviction notice.
Residents Against Inappropriate Development (Raid) has maintained a vigil against Gypsies on greenbelt land in Meriden since 2010.
The travellers, who were due to leave on Sunday, have been granted a three-week extension.
Solihull Council said it was seeking legal advice over the Raid group.
A council spokesperson added it was "going through due process".
Raid said they would not leave until the Gypsies move.
Resident David McGrath said: "We go when they [the Gypsies] go. When the land is vacated, then we'll be removing our protest camp."
Gypsies moved on to greenbelt land in Eaves Green Lane in March 2010.
Last month they dropped a legal appeal in an ongoing planning row.
The hearing, to challenge a previous decision to dismiss an appeal, was due at London's Court of Appeal.
Noah Burton, who has led the Gypsies' planning applications, has said it was "dropped because of money".