Stranded Wolverhampton pupils helped Arran islanders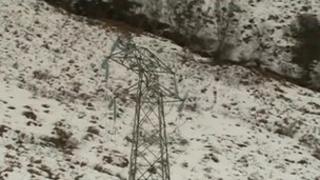 One of the Wolverhampton schoolchildren left stranded on a Scottish island by snow has described how they decided to help local people while stuck there.
Joe Tidmarsh, 16, was among 50 pupils from St Edmunds Catholic School who visited Arran for a geography field trip.
They had been due to return on Friday but arrived back on Monday night.
Joe said pupils had decided to "give something back" to the community by helping deliver food and clear paths.
The group of 16 and 17-year-olds had been staying at an adventure holiday centre when a snowstorm hit the island on Friday, bringing down power lines and covering cars and parts of buildings with snow.
'Worse situations'
Joe said that for the first day the pupils stayed indoors, playing cards and other games, but that later they went out and saw abandoned cars, fallen power lines and gates that had been blown away.
He said: "We realised it was better for us to do something for the community.
"There were people in much worse situations than us. They had no water and no electricity, while we only had no electricity."
Joe and the other pupils helped to deliver food, which had been dropped by helicopter to the island, to a local doctors' surgery, where residents had gathered.
He added: "It was nice to give something back as we were only visitors, but this was their life."