Wolverhampton school pupils stranded in Arran set for home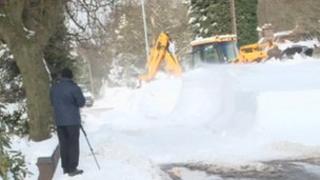 A group of pupils from Wolverhampton left stranded in Scotland by the snow are on their way home.
About 50 students from St Edmunds Catholic School were meant to return from Arran on Friday.
They caught a ferry back to mainland Scotland at about 14:00 GMT and the school said they were due back in Wolverhampton on Monday night.
About 120 schools were closed across Birmingham and the Black Country after heavy snow falls over the weekend.
Deirdre Finucane, head of St Edmunds, said the children had been in great spirits, although it may have been a "stretching experience" for them emotionally.
Some of them had been helping by clearing people's driveways and unloading food which had been delivered to the island by helicopter, she said.
'Work cut out'
Lisa Tidmarsh, whose son, Joseph, is on the trip said: "I'm absolutely thrilled to bits that they're coming home.
"It's been so frightening just wondering what's going on there and not being able to physically get a call to the children to find out how they were getting on."
The children, a group of 16 and 17 year olds, had been staying at a PGL centre - an organisation which arranges adventure holidays and courses.
Several roads in the Aldridge area, including Longward Lane and Old Hall Lane, were closed due to snow blowing off the fields and drifting.
Resident Lucy Claye said that she had never seen the roads so bad.
She said: "It was on Saturday morning when we first kept seeing people having to stop because they were struggling to get through.
"I can't believe the snow has been so heavy here, good luck to the men who have to clear it, they have their work cut out."
Walsall Council, which covers Aldridge, said gritters in the area had not gone out early enough on Sunday but drivers were making things worse by ignoring road closure signs.
Mike Bird, from the council, said: "The forecast we had was not in accordance with what we were expecting but as soon as we knew that we mobilised our forces."