The 'Brummie St Patrick' leads Birmingham parade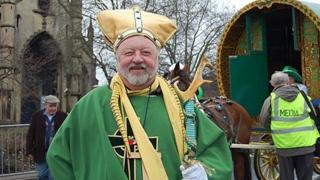 "I might look the part but the only time I have any Irish in me is when I've had a glass of Bushmills whiskey," laughed Len Cale.
On Sunday, he will put on his green and gold robes to play the patron saint of Ireland in the city's annual St Patrick's Day parade for the fourteenth year in a row.
"People have a misconception St Patrick was born in Ireland but the books say he was born in England, so it's not so unusual that an Englishman like me should play him, although I do get asked why St Patrick has a Brummie accent," he said.
He was chosen by the Irish community to take the role after he worked as part of the organising committee to establish the parade in 1996.
He said: "Very few people have had the honour of doing it, and the organisers have said they want me to carry on as long as I want to.
"My wife can honestly say, hand on heart, that she is married to a saint."
Birmingham's St Patrick's Day Parade is regarded as the third largest in the world after those in New York and Dublin.
Last year's parade saw record crowds of 85,000 people lining the streets to see the colourful procession of floats, musicians, and dancers.
Mr Cale said: "The Irish community built the basis for the city after the war. Their work is still clearly visible and this is their way to say come and celebrate that and come and enjoy the craic, as they put it."
This year's celebrations take place on the actual date of St Patrick's Day and have the theme of The Gathering, which organisers say is about encouraging people of Irish descent to visit the county, town and or village of their ancestry.
'Embracing their roots'
Pat Murphy-Wright is the cultural development officer for the charity, Irish in Birmingham.
She moved to the city from County Wexford aged seven, with her parents in 1960.
"The parade is about people embracing their roots and helps to teach children at local schools about their cultural background," she said.
"We've got such a lot to thank our elders for, when my parents came over it really was a case of no black people, no dogs, no Irish and when the pub bombings happened they were too frightened to speak because of their Irish accents.
"It's great that we can celebrate being Irish because we have a very strong community in Birmingham with world class Irish dancers, musicians and a strong Gaelic football culture, and all of these things are greatly underrated," she added.
More than 60 groups will take part in the parade.
Pat O'Neill is the treasurer of the Limerick association, who will be marching.
He said: "I do think it's a great boost for the city because on parade day there are between 80,000 and 100,000 people out on the streets so that means busy restaurants, busy bars, busy shops and the hotels do good business."
"With problems with the economy it's an excuse to have a celebration, sing songs and have a few pints of Guinness but it's also about building relationships and different nationalities getting involved.
"It's a true multi-cultural festival, you have the Chinese community taking part, Asian communities, it's that that makes Birmingham special."