Birmingham's Wholesale Markets: Move 'will lose customers'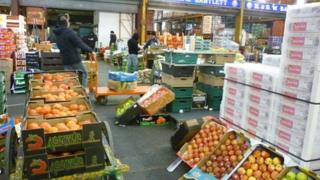 Among the hustle and bustle at Birmingham Wholesale Markets, traders expressed fears over plans to close the complex.
The city council said it "simply cannot afford the investment needed" to maintain the 21-acre site it owns in Digbeth and wants to move the market to Witton or Washwood Heath in 2016.
But going outside the city centre would mean the end of an era for a fifth generation family vegetable firm, R&RW Bartlett, dating back to the 1860s.
The firm used horse and carts to bring produce to Birmingham from a farm at Shenstone, Staffordshire.
Manager Paul Cherry, 56, said: "If it's going to move, we're going to lose customers because of moving out of the city centre - some people will travel, Other people won't.
"A lot of people do rely on just walking in the market and having the produce just dropped out [to them].
"[Traders at] the retail market, at the Bullring market, have got to find some way of getting produce to them now. They've got to invest in vehicles."
'Cost to restaurants'
Vans and forklift trucks were moving around outside the horticultural, meat, fish and poultry market areas in the early hours.
Garlic from China, peppers from Uganda and carrots from Pakistan were among the items which arrived overnight and some customers were at the site buying from as early as 02:30 GMT.
The council said the Pershore Street site has units which are not "fit for purpose" and is one third empty.
But the Birmingham Wholesale Fresh Produce Association said 70 firms employ 1,100 people on site at the market, which creates up to 20,000 jobs, including those in restaurants, market stall holders and shopkeepers.
It said the wholesale market has hundreds of customers and claimed diners in nearby Chinese restaurants could pay more, if the costs of the move are passed onto them.
Association chairman Mark Tate, 46, whose firm, George Perry Ltd sells about 100,000 pieces of fruit a day, said: "There's a lot of walk-in trade from the local restaurants around the site at the moment. Obviously they're going to have to get vehicles.
"We've done an independent survey, an economic report. We've found out [the move] puts on £1.50 on a starter, £2.33 on a main course and £1.20 on a dessert and that's across all restaurants, not only the Chinese, all restaurants in Birmingham city centre."
'Massive' frustration
The impact on The Flower Orchard shop in Walsall Wood Road, Aldridge, which also sells fruit and vegetables, could be mixed, according to one of the owners.
Jane Mee, who is in her 50s, said it might cost "slightly less in fuel" to get to the planned new site, but this could be offset by "perhaps price increases, due to higher rents" for wholesalers who might pass costs onto people like her.
She added: "It's hard for a small retailer like myself, things are so expensive anyway at the moment.
"We've just had Mother's Day and the flowers are just so dear for us to buy and then we tried to keep the prices as low as we can for our customers, but we've got the supermarkets to compete against."
Fraser Powell, 44, a shop owner for two decades, said the possible extra travelling time to the planned new site was a "massive" frustration.
Mr Powell, from Market Garden, a fruit and vegetable and butcher's shop in Slater Road, Bentley Heath, said: "I suppose it'll add another hour to my day. It's already long hours anyway this job.
"I don't understand if they've got the money to spend on supplying or providing a new site, why they cannot [refurbish] this one... Look at the roof, it's full of holes."
The Labour-run council said the new market site would be half the size of the existing one, with 72 standard sized units available.
It said the current market includes a 1970s building which had "come to the end of its life" and safety issues - such as lighting problems.
Deputy leader Ian Ward said he wanted to work with traders over the plans which he believed would secure the future of the wholesale market "for the next 60 years".
Any solution needs to be "affordable to both the city council and the traders", Mr Ward said.