Wolverhampton Civic Hall: 70 years of boxing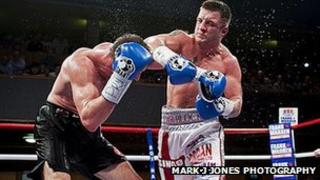 A West Midlands venue is celebrating 70 years of staging professional boxing matches by offering medallions to all the boxers who have fought there.
Wolverhampton Civic Hall first played host to a fight on 8 March 1943 with over 1,100 professional boxers involved in bouts since then.
Sir Henry Cooper, Joe Calzaghe, Richie Woodhall and Ron Gray are among those to have competed in the hall.
A number of boxers were invited to an event at the venue on Saturday.
Organisers said 1,170 medallions will be given to those who have competed or their families.