Wolverhampton city centre £5m roads revamp plan agreed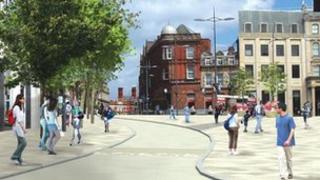 Work on a £5m scheme to improve the road system in Wolverhampton city centre will start in the summer after being approved by the council.
The scheme, which will take about two years to complete, will see one-way systems created, pavements widened and streets pedestrianised.
The city council said it hoped to attract new shops, offices and housing by improving the city centre.
The authority said it would hold exhibitions to show people the plans.
The changes to the road system will include the pedestrianisation of Princess Street, and making Lichfield Street and Queen Square one-way.
Queen Square will also be widened to allow it to be used for outdoor events.