Meriden Gypsy site recommended for council refusal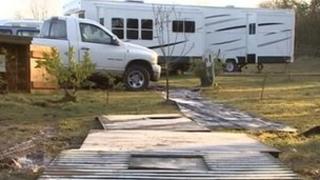 Fresh plans to turn a builder's yard into a gypsy camp in the West Midlands are being recommended for refusal.
Original plans for eight families to live on the site near Eaves Green Lane, Meriden, were rejected last November.
The group lost a High Court appeal last April and were given until the end of this month to vacate the land.
The smaller scheme would see only two families remain on the site - but Solihull planners have recommended the bid be thrown out.
Planning officials say the site would have an impact on greenbelt land.
A campaign group called Residents Against Inappropriate Development (Raid), which has a protest camp opposite the site, welcomed the recommendation.
David McGrath, chairman of Raid, said: "[This is] welcomed with relief by local residents who have fought to save two green belt sites from illegal development by Gypsies for three years."
A statement within the Gypsies' submission explains the application is for two "vulnerable" families who would otherwise be "homeless".
It added: "The families have been actively searching for alternative arrangements. They have contacted other authorities in the West Midlands area and asked around to see if anyone knows of any spare pitches. They have drawn a blank."
A decision on the application will be made at a planning committee meeting on 13 March.
Following this, the Gypsies have been granted a hearing at the Court of Appeal in London on 19 March to challenge the legality of a previous decision to dismiss an appeal.