Horse DNA found in beef supplied to Walsall Council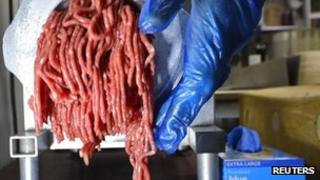 Mince and diced beef has been removed from menus at all primary schools run by Walsall Council after tests found horse DNA in meat from one supplier.
It was discovered in frozen mince supplied by Welsh Bros Foods Ltd.
One batch tested positive for horse DNA in frozen mince supplied to Walsall schools from mid December 2012 to mid January 2013.
The council said previous tests had not revealed any issues with the food supplier.
Samples submitted since mid January have tested negative for horse DNA, the council said.
Mince has also been taken off the menu at one secondary school in the Walsall area.
Councillor Mike Bird said the authority would be meeting with Welsh Bros Foods to discuss the issue.
Beef has been also been taken off school menus and meals-on-wheels dishes in Sandwell after tests showed products from the same firm could include horsemeat.