Birmingham Airport bags 'may have been searched illegally'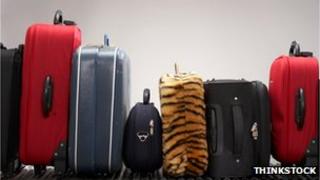 Luggage at Birmingham Airport may have been illegally searched by Border Force officials without passenger knowledge.
John Vine, Borders and Immigration chief inspector, said over 1,100 pieces of luggage had been seized following secret checks between 2011-12.
Mr Vine said searches that did not result in seizures were not recorded and added there was no assurance checks were carried out in a "lawful" way.
The Border Force said it had acted on recommendations made by Mr Vine.
The report followed a short-notice inspection of the airport.
The inspector said the only figures the Border Force had been able to provide over the period of September 2011 to September 2012 were that a total of 1,147 pieces of luggage had been seized as a result of secret baggage searches.
The airport handles more than 8.5 million passengers and about 84,000 flights a year.
Mr Vine said guidance on covert searches was "contradictory and out of date", meaning staff had followed different procedures.
'Spurious grounds'
In his recommendations, Mr Vine said that the Border Force must ensure that there is a "single source of operational guidance, that it is maintained and kept up-to-date".
He added that managers should ensure staff comply with the current guidance and legislation.
A Border Force spokesperson said: "Border Force protects the public and our economy by stopping the importation and exportation of illegal and restricted goods.
"Searching baggage, including when the owner is not present, is a legal and proportionate response to this issue.
"Any such searches must be authorised by a senior officer.
"We have already taken action on the recommendations the Chief Inspector made in his report."
Nick Pickles, director of campaign group Big Brother Watch, said airport security was "clearly important" but people should not be afraid their luggage "will be searched on spurious grounds or at random".
He added: "People can't challenge these searches if they don't even know they're going on."