Landslip road in Red Hill to reopen one way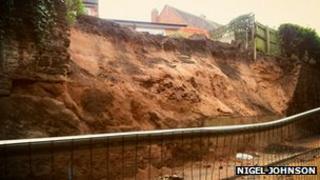 A road closed for two months due to a landslip will be opened "as soon as possible", a council says.
A wall collapsed on Red Hill in Stourbridge in the West Midlands on Christmas Eve closing the road, Dudley Council said.
The authority has been trying to establish who owns it and it is thought it could belong to West Midlands Police but the force said it believed the land was "unregistered".
A one-way road system will be set up.
Councillor Judy Foster, cabinet member for transportation, said: "We are working to establish ownership of the collapsed bank which may take some time, however whilst these investigations continue we have now developed a temporary scheme that would enable the road to be safely opened one way.
"These works got under way on February 12 and the intention is to re-open the road one way as soon as practically possible."
The temporary work, estimated at £10,000, will involve shoring the bank with wooden rakes and also installing a concrete barrier and fencing to create a pedestrian walkway.
A spokesman West Midlands Police said the force was "currently making some enquiries to determine ownership of the land, on Red Hill, which is currently believed to be unregistered".