Union plea over lost Birmingham Hovis contract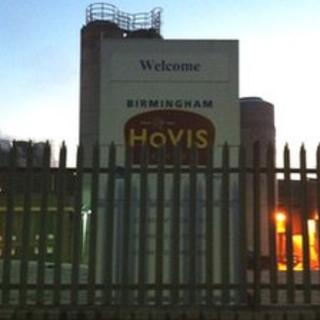 A union representing some workers at Birmingham's Hovis bakery says more should have been done to save the site.
A total of 511 workers are expecting to receive official redundancy letters this week as the 90-day consultation period over job losses comes to an end.
Premier Foods, the maker of Hovis, announced the closure after the loss of a £75m-a-year contract with the Co-op.
John Higgins, of the Bakers, Food and Allied Workers Union, said Premier should have fought for the contract.
However, the firm said it had "no viable alternative" to closing the factory in Garretts Green after losing the contract. The business also needed to re-organise to take into account reduced sales, a spokeswoman said.
'Constructive' meetings
Mr Higgins said: "If that contract was the final nail in the coffin for this site why wasn't more done to win that contract?
"It's costing a lot of money to actually close this site down in redundancy payments and the loss of the volume.
"So why wasn't more care taken of the contract and why didn't they try to go that extra mile to win the contract?"
In November, Premier Foods announced the closure of the bakery as well as a site in Greenford, west London with the loss of a further 400 jobs.
Mr Higgins said the company should have consulted with unions before making the announcement.
He claimed once the announcement had been made, Premier Food had a "mindset" of closure "no matter what proposals were put forward by the shop floor or various organisations".
But the company spokeswoman said since November it had held consultations with its employees and their union representatives.
"These meetings have been constructive, are ongoing, and are due to conclude mid-February," she said.
"During the consultation process, we have concluded that there is no viable alternative to the proposed closure, and it is likely that the bakery will close around April/May of this year."
'Terrible wrench'
The company was trying to help employees secure alternative employment either within the Premier Foods Group, or "by providing outplacement support", she said.
Graham Taylor, 58, from Northfield, Birmingham, who has worked at the firm for about 13 years, is worried about finding work and for his sons, who are also employees.
"A lot of people have got skills but not necessarily the skills other companies want, that's the thing," he said.
"I've got two sons there and I'm worried about them and their future. And they've got young families.
"It's hard to suddenly after 12 to 13 years to be told you have no longer got a job.
"There's people that have been there for 40 years and it's going to be a terrible wrench for them, for everybody."