Basketball coach honoured for fighting gang crime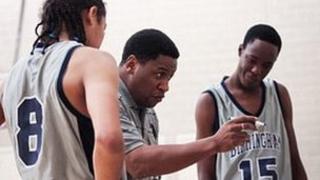 A sports coach who helps to turn young people away from gang crime has been honoured by Birmingham City University.
Nigel Hanson is a former student of the university, who overcame adversity to create the largest community basketball club in the country.
Mr Hanson was injured when caught up in a gang shooting and as a result started a basketball club as an alternative to guns, gangs or offending.
He has been selected as an Alumni of the Year for Monday's awards ceremony.
Mr Hanson said: "When I was shot, that was a turning point for me.
"Basketball not only saved my life but turned my life around and I wanted to try and do the same for others."
He established Birmingham A's as the leading basketball club in the country through the development of bespoke projects that create better life chances for young people and children.
Skills focus
The Birmingham A's District Basketball League was also his creation, for 50 basketball clubs for young people to play together throughout the city.
With funding from Ending Youth and Gang Violence Programme Mr Hanson has coached basketball skills and helped young people with their studies and volunteering opportunities to focus on employability skills.
He said: "I feel more about getting this award than I did about winning national titles as a player or being in the England national squad.
"It recognises what I have done for others rather than myself; although I never set out to get recognised for any of the work I do, it's very nice that I have been."
Mr Hanson is also a lawyer and currently Head of Employment Law for Birmingham Citizens' Advice Bureau.