Peter Radford mural unveiled to honour world record breaker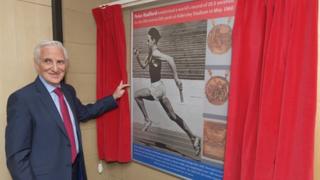 A mural to a world record-breaking athlete has been unveiled near the stadium where he set his time.
Peter Radford broke the world record for 220 yards at the Aldersley Stadium in Wolverhampton in 1960.
He went on to represent Great Britain at the 1960 and 1964 Olympic Games, winning two bronze medals.
Mr Radford, 73, said: "I was proud to be the first Briton to set a world record in the sprints for 46 years, and to do so at Aldersley."
He unveiled the mural in the foyer at the Aldersley Leisure Village, which contains the stadium.
'Special place'
Mr Radford, who was born in Walsall, had to use a wheelchair as a child because of a serious kidney problem, but recovered and trained at the Aldersley Stadium from its opening in 1956.
He said: "Aldersley has been a really special place to me. It holds wonderful memories and I'd like to thank it for all that it has given me over the years."
He won bronze medals in the 100m and 4x100m relay at the Rome Olympics in 1960.
After the 1964 Games in Tokyo he retired, but remained involved in the sport, becoming executive chairman of the British Athletics Federation.
The mayor of Wolverhampton, Christine Mills, said: ""We are very honoured to be here for this magnificent tribute to Peter Radford.
"It may have taken over 50 years, but I am delighted that his record-breaking achievements have been immortalised in this way."
The mural is based on the International Amateur Athletics Federation bronze plaque which was presented to Mr Radford in 1960 to mark his world record.