Peter Lovenkrands robbed of £30,000 watch in Solihull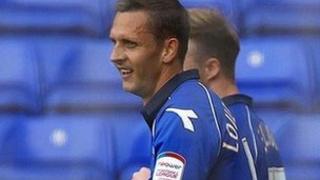 A £30,000 diamond-encrusted watch has been stolen from Birmingham City footballer Peter Lovenkrands during a mugging outside his home.
Two youths targeted the Danish striker as he parked his car outside his Solihull home, forcing the customised Hublot watch from his wrist.
The men unsuccessfully tried to take 33-year-old Lovenkrands's wedding ring during the robbery.
Det Sgt Andrew O'Keeffe described it as a "frightening attack".
The policeman added: "The watch that was stolen is very unique and we would ask anyone who is offered a watch of this kind to contact us immediately."
Described as aged in their late teens or early 20s, the muggers were wearing hooded tops and had their faces covered.
They ran off after the robbery, at about 14:00 GMT last Thursday.
Blues secured the signing of the former Newcastle United forward in July.
Lovenkrands, who has scored one goal in his 22 appearances for Denmark, became manager Lee Clark's first signing and finalised a two-year deal.
He joined Newcastle from Rangers in January 2009.