West Midlands Police finish 24-hour 999 tweetathon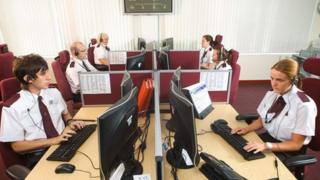 Police have released details of inappropriate 999 calls they have received, including one from a man struggling to be served in McDonalds and a woman wanting a laptop password.
West Midlands Police tweeted details of the calls to encourage people to think before dialling 999.
The force wants more people to use the non-emergency 101 number and keep 999 lines for life-or-death situations.
The real-time tweetathon closed at 07:00 GMT on Saturday.
West Midlands Police said they had received 1,420 calls to 999 over the 24 hours.
One of the first tweets said: "999 call just received from an unlocked phone in a pocket, tying up an emergency line. Remember to check your phone is locked!"
A further call received during the "tweetathon" was from a caller requesting assistance to obtain a refund from an expensive car wash, while a separate "emergency" call was made by a member of public reporting a spiritual healer as a fraud.
One man called 999 to ask how to dial 101, asking if he had to press the hash key and press 0121, the area code for Birmingham.
Since midnight emergency staff also took nine calls about payment disputes between taxi drivers and their customers.
The force also said a "male called 999 to say he has a heart problem as he is in love with a girl whom he does not know" and it tweeted a 999 call from a man who wanted them to "come out to frighten his sister", describing it as "a waste of police time".
Ch Insp Sally Holmes said: "These calls are ridiculous...we regularly receive calls on the 'nines' about lost property, people asking for directions and from people who have been denied entry to a nightclub."
She said nuisance or hoax calls put pressure on staff and could delay them answering genuine "life or death" calls.
The force tweeted that on Friday evening its genuine emergency calls included two separate reports of stabbings.
Staff at the force contact centre in Bournville in Birmingham - where all force-wide 999 calls are processed - finished tweeting via @WMPolice at 07:00 GMT on Saturday.
The centre has a total of 87 staff working across five shifts day and night, with 56 staff taking non-emergency 101 calls, she said.