Meriden Gypsies make fresh site application for yard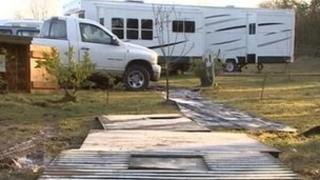 A group of Gypsies have submitted fresh plans to turn a West Midlands builders yard into a temporary site.
The group have to leave land in Meriden at the end of March after losing a High Court appeal last April.
They want to move to a field near to Eaves Green Lane but plans to put eight caravans there were rejected by Solihull Borough Council in November.
Two families have now re-submitted the application to the authority which they said had been scaled down.
The Gypsies have until the end of March to leave the greenbelt land they have been occupying since April 2010, after reaching an agreement with Solihull Borough Council.
A statement within the application said the two families that had made the application were "vulnerable" and would be "homeless" from the end of March.
The statement said: "The families have been actively searching for alternative arrangements.
"They have contacted other authorities in the West Midlands area and asked around to see if anyone knows of any spare pitches. They have drawn a blank."
A campaign group called Residents Against Inappropriate Development (RAID), which has a protest camp opposite the site, said it would be objecting to the plans.
The application will be considered by the council in the next few months.