One in three Big Issue sellers face abuse or assault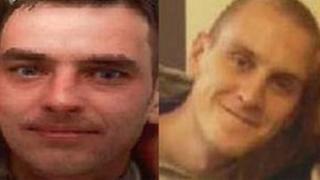 Attacks on Big Issue sellers are not uncommon, according to the charity.
Wayne Busst, 32, and Ian Gladwish, 31, who both sold the paper, were fatally stabbed in Birmingham on Friday night.
John Ward, 23, of no fixed address has been charged with their murders.
The Big Issue said research conducted in 2010 suggested that as many as one in three of its vendors had suffered abuse or assault, including muggings, although deaths were rare.
The charity currently has about 2,500 sellers across the country, with more than 100 people a week applying to join the scheme.
It said the streets continued to be a "dangerous place for vulnerable people" and its work aimed to take them off the streets permanently.
A spokesman said sellers' pitches were carefully chosen to make sure they were in public places, to improve safety as well as increase sales.
Street teams were also in place to check on vendors, she added.
Big Issue founder John Bird paid tribute to Mr Busst and Mr Gladwish, describing their deaths as "senseless".
He said: "This awful crime, perpetrated against two hard working, mild-mannered men only serves to illustrate the extreme vulnerability of people who live and work on the streets."
'Lots of prejudice'
Stephen Dartmorr, 37, who is homeless and normally sells the Big Issue on Broad Street, said he had experienced violence there.
Mr Dartmorr, who has been selling the Big Issue on and off for about five years, said somebody tried spitting on him on New Year's Eve on Broad Street and then he got into a fight.
He said: "I've had all sorts of incidents, but you try and walk away because at the end of the day we're the ones doing the asking. We're approaching them.
"There's a lot of prejudice towards people - homeless people, Big Issue sellers. The average person in the street thinks that like homeless people... are not our problem."
Fellow Big Issue vendor Adrian Smith, 40, who was homeless on and off for about eight or nine years before getting involved with the Big Issue, said he had sometimes felt threatened as a seller.
Speaking on New Street, one of the areas where he regularly sells the paper, Mr Smith said he gets "sarcasm" and disagreements, but "nothing major like violence".
He added: "[I've] just had the unpleasant remarks and stuff like that off people, but you just tend to brush it off, don't you?
"If I feel uncomfortable, I just normally like move on and then come back to my pitch a bit later on."
'Nice blokes'
Several people who work in the centre of Birmingham said relations with Big Issue vendors were generally good.
Dave Evans, who works at Millets on Union Street, near where both men were stabbed, said a few of the Big Issue sellers occasionally came into the store, but he was not aware of any trouble in the area.
"There are a few problems with beggars, but the Big Issue sellers are nice blokes," he said. "They've never talked about having problems."
Andrew Wale, 30, who also works on Union Street, said there was generally a positive attitude towards Big Issue sellers in the area.
"They come across really nice, friendly to talk to, but when I heard about it I was really scared to come to work myself on Saturday," he said.
Twitter abuse
Big Issue sellers are not the only workers operating on the country's streets.
Rory White from Flow Caritas, a charity recruitment agency, said street fundraisers were far more likely to experience abuse than those working door-to-door.
"It happens more on streets, partly because people think they are more anonymous," he said.
"We have to take safety very seriously. There's always a briefing beforehand and people work in teams in well-lit, busy areas."
The Public Fundraising Regulatory Association (PFRA), said violence towards so-called charity muggers, or chuggers, was very rare, although in one case a few years ago a woman had mace sprayed in her face.
The charity-led body which regulates face-to-face fundraising said abuse of chuggers on social media sites such as Twitter was becoming more common and more explicitly violent in its content.