Wolves Indian drum ban angers Asian supporters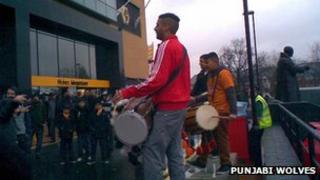 A group of Indian drummers are pleading with the football club they support to lift a ban on them playing their instruments during matches.
The Wolverhampton Wanderers supporters, who call themselves Punjabi Wolves, frequently take their dhols, a type of Indian drum, to away matches.
But Wolverhampton Wanderers will not allow the instrument at Molineux for home games.
The Championship club has a policy of not allowing drums inside the ground.
Raj Bains, of Punjabi Wolves, said: "All we are saying to the club is just give us a chance.
"I think the problem is that they tried it about five years ago and it didn't work.
"They had the England band in and to be honest they didn't bring a great deal of atmosphere in."
He said that the dhol being played during a game at Wigan created "a fantastic atmosphere" .
Andy Sahota, also from Punjabi Wolves, said: "We just feel let down by Wolves because we've been allowed it at Wigan, Fulham and other away grounds, whereas we are based in Wolverhampton, it's our home ground.
"That's why it feels like a kick in the teeth, really."
Glimmer of hope
Wolves are not the first club to impose bans on musical instruments being played at football grounds during matches.
Wembley Stadium has its own rules and has banned "any article that might be used as a weapon".
Spectators are not allowed to take into the ground unlicensed musical instruments, including trumpets, drums and "other devices capable of causing a disturbance or nuisance",
A spokesman for Wolverhampton Wanderers said the ban on all musical instruments at Molineux had been decided upon after consultation with fans.
But there is a glimmer of hope for the Punjabi Wolves.
The club said it frequently reviewed policies, usually at the end of the season, and that its stance may change in the future.
You can hear more on this story on Asian Network Reports on the BBC Asian Network at 17:00 GMT on Friday or on the BBC iPlayer for seven days following transmission.