M6 closed after horsebox crash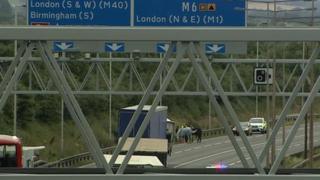 A section of the M6 has been shut after a crash involving a horsebox, a lorry and a van.
A horse died and a man and woman suffered critical injuries at about 14:25 BST on the southbound carriageway just before junction 4A, the M42 exit.
The M6 was closed both ways between junction 4 near Coleshill and junction 6, Spaghetti Junction, but was reopened northbound at about 20:50 BST.
The man and woman were airlifted to hospital.
She was believed to be from the vehicle with the horsebox and was treated for a potentially serious head injury, the ambulance service said earlier.
The woman was taken to Queen Elizabeth Hospital Birmingham, while the man, who was believed to be in the van, had serious head and chest injuries and was taken to University Hospital in Coventry.
The motorway was closed so casualties could be treated and to allow two air ambulances to land.
Two other horses were on the carriageway and secured by members of the public until officers arrived, police said. They were tended to by a vet.
Stationary traffic southbound was earlier reported at junction 8, the turn for the M5, while on the northbound carriageway delays went back to junction 3A near Coleshill.
Southbound vehicles which went beyond junction 6 - the turn for the A38(M) Aston Expressway - were turned north using a gap in the central reservation, police said.