West Midlands leukaemia appeal raises more than £70,000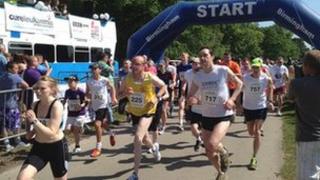 A leukaemia appeal which aims to fund specialist nurses in the West Midlands has raised more than £70,000.
BBC WM 95.6's Red Alert Appeal is working with Cure Leukaemia to raise money for 10 nurses, who each cost about £25,000 a year.
The nurses, who will help administer new treatments, will be based at West Midlands hospitals.
A fun run at Sutton Park on 27 May secured £30,000 towards the appeal, which has raised £73,000 so far.
'Save lives'
Cure Leukaemia said there were about 7,000 adult leukaemia patients in the area.
The charity will continue fundraising to keep the nurses in their posts once the year-long BBC WM campaign ends in February 2013.
Professor Craddock, who co-founded Cure Leukaemia, has said he hoped the campaign would bring in much-needed funds.
"For us it is very simple, more money for more nurses means we can save more lives."