Man sentenced for burning Winson Green riots car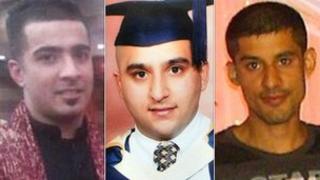 A man who helped to burn a car which hit and killed three men during last summer's riots in Birmingham has been given a 16-month jail term.
Haroon Jahan, 20, and brothers Shazad Ali, 30, and Abdul Musavir, 31, died after being hit by a Mazda last August.
Liam Young, 29, of Winson Green, admitted being responsible for setting fire to the car minutes after it hit the men, Birmingham Crown Court heard.
Eight men were cleared of murdering the three friends at the court on Thursday.
Young, of Bryant Street, was immediately released on licence due to time served on remand. He had handed himself into police 10 days after the men's deaths and had spent 333 days in custody, the court heard.
'Potentially destroying evidence'
Opening the case against Young, prosecutor Timothy Spencer QC said he was known to all eight men who were cleared, including Ian Beckford, who was at the wheel of the Mazda.
Mr Spencer said: "At 1.16am three men were killed when a car driven by Mr Beckford, a Mazda saloon, hit them very close to the junction of Winson Street and Dudley Road.
"After stopping briefly, Mr Beckford resumed his progress on the Dudley Road before turning into Barford Road."
The court heard Young, driving a van, then had a discussion with Mr Beckford and was recruited to destroy the Mazda. The car was burnt out after a petrol can was brought to the scene.
Young, a father of one, who also drove Mr Beckford and two other men to the Handsworth area, pleaded guilty to perverting the course of justice on the basis that he did not know the Mazda had been involved in the deaths.
Richard Atkins, representing Young, said: "When he was asked to help destroy the car, he was still unaware of what it had been involved in, but understood it must have been involved in something criminal or something of a serious nature.
"He only learned of the alleged use of the car in the killing of three men when watching television later that morning."
Sentencing Young, Mr Justice Flaux said: "Even though other defendants were acquitted by the jury yesterday, the fact remains that in burning the car you were potentially destroying evidence which could have assisted the police inquiry."
Mr Atkins told the court his client had spent 11 months in custody, equating to a 22-month jail term.
Young, who also knew the men who died, submitted a letter to the court prior to sentencing expressing remorse.